MWNF Travel Books
Back

Islamic Art in the Mediterranean | Morocco
2010, Paperback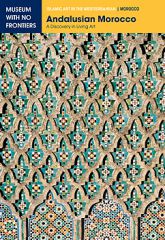 2010, eBook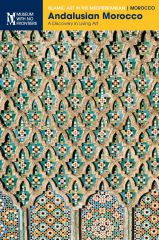 2000, Paperback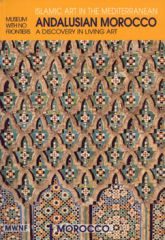 Title
Andalusian Morocco
Subtitle
A Discovery in living art
263 pages, 265 colour illustrations, 23 plans
Series
Islamic Art in the Mediterranean
Country
Morocco
Author(s)
M. Benaboud, N. El-Khatib Boujibar, K. Lakhdar, M. Mezzine, A. Touri
Local Coordinator(s)
Nadia Hachimi, Nouria Cherradi
Photographer(s)
Khalil Nemmaoui
Publisher(s)
MWNF, international co-edition
Languages
English, Español, Français, Italiano.
Description
A Discovery in Living Art tells the story of the exchanges between the furthest frontier of the Maghreb and Al-Andalus for more than five centuries. Political and social circumstances gave birth to a crossroad of cultures, techniques and artistic styles revealed by the splendour of Idrisid, Almoravid, Almohad and Marinid mosques, minarets and madrasas. The influence of Cordovan architecture and Andalusian decorative models, horseshoe arches, floral and geometric motifs and the use of stucco, wood and polychromatic tiles, display the continuous interchange that made Morocco one of the most brilliant homes of Islamic civilisation.

Eight itineraries invite you to discover 89 museums, monuments and sites in Rabat, Meknès, Fez, Chefchaouen, Tétouan and Tangier (among others).

More about this Book
As early as the beginning of the eighth century, having just reached this extreme territory of the Maghreb, Moroccan Islam started to cast its eye to the other side of the Straits of Gibraltar and shortly after set foot on the Iberian Peninsula. From that time on, and for a further eight centuries the fate of both areas would be inseparable, and it is this real Hispanic-Maghreb culture that this Museum With No Frontiers project examines, one which would feed a sophisticated and innovative artistic culture by inspiring every aspect of daily life. Fertilised by thousands of architectural and decorative styles, Andalusian art places Morocco at the zenith of Islamic civilisation. From the outset (the mid-ninth century) the birth of Islamic art in Morocco was placed under the omen of confrontation, for the foundation of the two great Idrissid sanctuaries in Fez (the Qarawiyne and the Andalusian mosque) were the respective works of Ifriqiyans (Tunisians) and Cordoban immigrants. At a later date, the Almoravids would borrow heavily from Andalusian art, although it is under the Almohads that Muslim architecture would reveal in its entirety a Moroccan-Andalusian symbiosis. The Merinids would perpetuate this tradition by enhancing it further with new elements: their palaces, madrasas and mosques exhibiting the lavish décor of zellij are considered the most accomplished expressions of Andalusian art in Morocco. From the Buinaniya madrasa in Meknès to the Almohad ramparts of Rabat, from the Qaraouiyine library to the Kasbah in Tangier, to the holy city of Chefchaouen, its porticoes of painted wood, elaborate patios and minarets, Andalusian Morocco set the scene for the "Golden Age" of Mediterranean history suffused with an unprecedented artistic and intellectual emulation.

Formats, Prices & Orders

English version


Paperback [2000, 15 x 21.5 cm, out of stock]

Paperback [2010, 15.2 x 22.9 cm, ISBN 9783902782083, available]

eBook [2010, ISBN 9783902782090, available]


Note

No Note