MWNF Travel Books
Back

Islamic Art in the Mediterranean | Syria
2015, Paperback
2015, eBook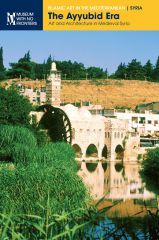 Title
The Ayyubid Era
Subtitle
Art and Architecture in Medieval Syria
288 pages, 250 colour illustrations, 25 plans
Series
Islamic Art in the Mediterranean
Country
Syria
Author(s)
Verena Daiber, Wa'al Hafian, Abd al-Razzaq Moaz, Yasser Tabbaa, Zena Takkiedine (among others)
Local Coordinator(s)
Zena Takieddine
Photographer(s)
Muhammad al-Roumi
Publisher(s)
MWNF
Languages
English.
Description
This new MWNF Travel Book was conceived not long before the war started. All texts refer to the pre-war situation and are our expression of hope that Syria, a land that witnessed the evolution of civilisation since the beginnings of human history, may soon become a place of peace and the driving force behind a new and peaceful beginning for the entire region.

Bilad al-Sham testifies to a thorough and strategic programme of urban reconstruction and reunification during the 12th and 13th centuries. Amidst a period of fragmentation, visionary leadership came with the Atabeg Nur al-Din Zangi. He revived Syria's cities as safe havens to restore order. His most agile Kurdish general, Salah al-Din (Saladin), assumed power after he died and unified Egypt and Sham into one force capable of re-conquering Jerusalem from the Crusaders. The Ayyubid Empire flourished and continued the policy of patronage. Though short-lived, this era held long-lasting resonance for the region. Its recognisable architectural aesthetic – austere, yet robust and perfected ‒ survived until modern times.

The Ayyubid Era: Art and Architecture in Medieval Syria describes eight thematic Itineraries including, among others, the cities of Damascus, Bosra, Homs, Hama, Aleppo and Raqqa.
More about this Book
This book is dedicated to all those who believe that the key to mutual understanding and peaceful coexistence is knowledge of the other's perspective of history and cultural values, according to the other's specific historical experience.

Today we watch on with horror at developments in Syria and the surrounding region and the impact the war is having on Europe and the international community as a whole. Hundreds of thousands of Syrians have to flee their country and innocent people have to die. Nothing justifies the atrocities happening today. But, if we believe in the future and if we hope for peace in the region and for safety in the world, we have to start looking at history and cultural heritage not only as fields of academic research but, primarily, as the roots of identity and the key to human dignity. If we continue ignoring the other's perspective, the other, at a certain point of exasperation, will end up ignoring our perspective. This is where we stand today.

I am writing this preface at a time when some of the places that are described in this book – including Aleppo and Raqqa – have been severely damaged and continue to be exposed to great threat. And I remember how, between 2005 and 2007, when this book was conceived, we came together regularly in the office of Dr. Abd al-Razzaq Moaz, at that time Deputy Minister of Culture, to discuss each single detail of the described eight Itineraries. Each member of the Curatorial Committee had a different approach, ideas were discussed, and the atmosphere was excellent. Since the office was based in a residential area with no bars or restaurants in the surroundings and since each meeting lasted at least eight hours, Dr. Moaz always arrived in the morning with a large plastic bag full of tasty sandwiches and delicious damascene sweets. Wonderful smelling coffee was then prepared by the guardians of the building. At around the half way stage, a young Syrian scholar, Zena Takieddine, joined the team to take care of the overall editorial coordination of the book. Zena's enthusiasm and great empathy combined with her brilliant work, made her appear as a shining vision of Syria's bright future. After the experience of the preparation for this book, the hope that Syria, which has witnessed the evolution of civilisation since the beginnings of human history, could become a driving force for peace in the region, for all of us, became a tangible reality.

The Ayyubid Era: Art and Architecture in Medieval Syria is published as it was conceived by the authors before the war started. All texts refer to the pre-war situation and are our expression of hope that the violence in Syria may be brought to an immediate end.

Eva Schubert
Chair and Chief Executive
Museum With No Frontiers

Formats, Prices & Orders

English version


Paperback [2015, 15.2 x 22.9 cm, ISBN 9783902782168, available]

eBook [2015, ISBN 9783902782175, available]


Note

No Note